This is the character aspect of Madison hunter's version of Sherlock 2010. For the original character see Madison Hunter. For the character in the series, see Madison Hunter (Knightley)
Madison Arabella Hunter, mostly referred to as Maddie by her friends, is childhood friends with John Watson and best friend of Sherlock Holmes.
In this version, she is portrayed by Jennifer Morrison.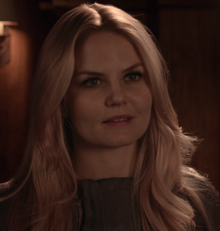 Characteristics
Edit
Madison is clearly American but has a British Accent because both her parents moved to Britain before she was born.
Early life
Edit
Before her birth, Madison and John's family were friends; therefore, Madison grew up with John.
She once got along with her siblings, but her older sister separated herself. They later make up during season 2 after they save each other's lives and after Elizabeth seeks her help. Maddie later learned at St. Bart's.
During their time in the war of Afghanistan, John took the bullet for Madison when they were out in the field. Madison later quits the military after the battle dramatizes her and had a bullet to the leg while John got shot in the shoulder. She is currently in her late thirties.
Relationships
Edit
John Watson
Edit
John and Madison have been best friends for a very long time, practically since birth. 
They have a son together, named Hunter.  
Madison was real close with her father. According to Sherlock, Madison does not know who her mother is and neither does her siblings (however, Sherlock said that only James knows who their mother is.
Siblings
Edit
Maddie is close with ehr brother James. However, she is distant towards her sister, Elizabeth after a falling out between both friends. However, thanks to Sherlock, Madison grows close with Elizabeth again.
In the novels, Madison marries John after the death of his first wife, Mary Morstan. However, in the series, John and her remain neutral after Mary's death with Madison and John potentially becoming love interests
References
Edit
↑

According to Sherlock, Madison's mother, Arabella is dead. This is confirmed in "The Lying Detective".

↑

Confirmed by Andy Spencer